GIS in Forestry and Natural Resources: Current Analytical Capabilities and Future Directions
Presentation for Faculty Delegation from Wondo Genet College of Natural Resources, Hawassa University, Ethiopia
Warner College of Natural Resources, Colorado State University — Friday, April 11, 2014
<![if !vml]>

<![endif]>
Presentation by Joseph K. Berry
<![if !vml]>

<![endif]>
Posted at http://www.innovativegis.com/basis/present/EthiopianDelegation/
______________________________________
Presentation:
GIS in Forestry and Natural Resources: Current Analytical Capabilities and Future Direction
This presentation discusses underlying concepts, capabilities, considerations and challenges facing natural resources faculty in moving beyond mapping and instilling the ability to "think with maps" in their students.
Handout — Workbook Part 1, Part 2, Part 3, Part 4 (print in order) — PowerPoint
(click to access materials)
Also see…
<![if !supportLists]>- <![endif]>Future Directions of GIS in Forestry: Extending Grid-based Map Analysis and Geo-web Capabilities — PowerPoint slide set and live video of keynote presentation for Esri Forestry GIS Solutions Conference 2012.
http://www.innovativegis.com/basis/Papers/Other/Esri_Forestry2012/
<![if !vml]>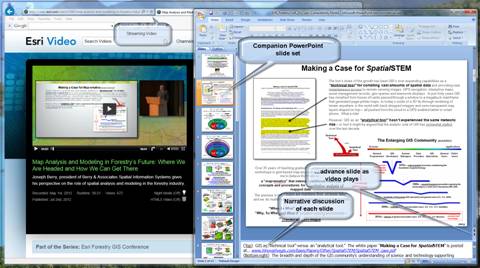 <![endif]>
…download and run companion PPoint slides in separate window for improved graphics; advance slides with presenter.
<![if !supportLists]>- <![endif]>A Brief History and Probable Future of Geotechnology — paper on the evolution and future directions of GIS.
http://www.innovativegis.com/basis/Papers/Other/Geotechnology/Geotechnology_history_future.htm
<![if !supportLists]>- <![endif]>An Analytical Framework for GIS Modeling — paper presenting a conceptual framework for map analysis and GIS Modeling.
http://www.innovativegis.com/basis/Papers/Other/GISmodelingFramework/
<![if !supportLists]>- <![endif]>GIS Modeling and Analysis — book chapter on grid-based map analysis and modeling.
http://www.innovativegis.com/basis/Papers/Other/ASPRSchapter/ 
<![if !supportLists]>- <![endif]>Making a Case for SpatialSTEM: Spatial Considerations in Science, Technology, Engineering and Mathematics Education — paper describing a framework for grid-based map analysis and modeling concepts and procedures as direct spatial extensions of traditional mathematics/statistics. 
http://www.innovativegis.com/basis/Papers/Other/SpatialSTEM/SpatialSTEM_case.pdf
<![if !supportLists]>- <![endif]>Math/Stat Classification of Spatial Analysis and Spatial Statistics Tools (Spatial Analyst by Esri) — paper listing ESRI Spatial Analyst module operations by traditional mathematics and statistics categories.
http://www.innovativegis.com/basis/Papers/Other/Esri_Forestry2012/SA_SS_Operations_SpatialAnalyst.pdf
_______________________________
Beyond Mapping Compilation Series, Joseph K. Berry 
<![if !vml]>

<![endif]>This demonstration session describes the access, content and searching procedures for the nearly 1000 pages and more than 750 figures in the Beyond Mapping Compilation Series of Beyond Mapping columns appearing in GeoWorld (formally GIS World) magazine from March 1989 through December 2013.  The online Series provides a comprehensive and longitudinal perspective of the underlying concepts, considerations, issues and evolutionary development of modern geotechnology.     www.innovativegis.com/basis/BeyondMappingSeries/
Description (click to access Handout .pdf file; scale the oversized poster file to fit page when printing on 8.5x11.0 paper)
_______________________________